Wine Industry Classifieds
New companies to directory
Wine Jobs UK
DCS Farms LLC
ENOPROEKT LTD
Liquor Stars
Stone Hill Wine Co Inc
Dessert wines are sweet wines and there are thicker and richer from table wines. Often extra grape spirits are added to raise the alcohol content and preserve them. The grapes are picked late in the harvest to preserve residual sugars.
More information on Dessert Wine
Frucchus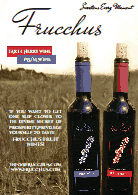 Vintage: 2013
Varietal: Dessert Wine
Country: Hungary
Appellation: Tart cherry
Produced By: Mokos Pince
Cases Produced: 120 cs.
Alcohol Content: 13.00 %v/v
Description:
In the secret gardens of Western Eurasia Gods hide their most precious fruits. These beautiful orchards in the heart of Pannonia are watered with tears of joy since the beginning of time. Thus every ambrosial fruit from these gardens has a magic power, which is extracted to create the potion of deity. Tart Cherry Wine is the gift of Gods that contains the extract of youth. It is destined to bring happiness and love. If you want to get one slip closer to the divine secret of eternity, privilege yourself to taste Frucchus Tart Cherry Wine! Ingredient : 100% fresh tart cherry Alcohol content : 13%