New companies to directory
Stacked Stone Cellars
Top it Off Bottling
Prestige Champagne Brands
Savannah Oaks Winery
Winery 32
Crusher Wine District Forming in Napa
Sep 13, 2013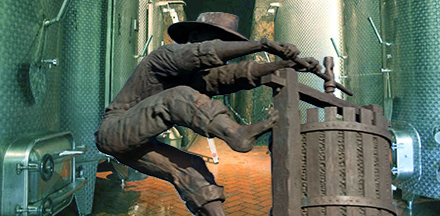 (Wines&Vines) - Though the name "Napa" is synonymous with fine wine, few wineries are located in the city of Napa itself, and most of them are little known. Instead, most wineries are in unincorporated parts of the county or small towns to the north.
That could change soon with the formation of the Crusher Wine District, a collection of wineries hidden away in two business parks in the southern part of the small city.
The district takes its name after the famous "Grape Crusher" statue of a man pressing grapes in a basket press on a hill overlooking Highway 29, the southern gateway to the Napa Valley. The statue is misnamed, which is odd in a valley filled with residents who are experts in winemaking.
Zoning change needed
The statue also overlooks Napa Commons, a business park to the north. That area plus another smaller area north of the Commons contains almost a dozen wineries and tasting rooms. Most are tiny, but not all, and managers of the park are trying to change the area's restrictive zoning to allow more wine production and visitor amenities in the area.
The sparkplug behind the effort is Garrett Busch, scion of the family that owns the Meritage Resort, and manager of Trinitas Cellars, which has a tasting room in a cave next to the resort.
Comments:
Leave a comment
Wine Industry Classifieds