Wine Industry Classifieds
New companies to directory
Wine Jobs UK
DCS Farms LLC
ENOPROEKT LTD
Liquor Stars
Stone Hill Wine Co Inc
Wine Jobs
Harvest Intern - Lab / Wine Jobs / ID: 915832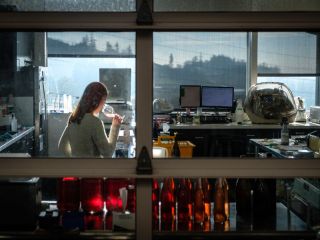 Job title:
Harvest Intern - Lab
Company name:
A to Z Wineworks
Job location:
Newberg
State / County:
OR
Country:
USA
Posted on:
21.Mar.2022
Expire on:
28.Mar.2022
Job Details:
A to Z Wineworks, located at their REX HILL property in Oregon's Willamette Valley, seeks experienced lab interns for the 2022 vintage. This is a paid seasonal laboratory position, starting at $18 per hour and increasing dependent on experience.
At A to Z Wineworks, harvest is intense and filled with opportunity as fruit arrives from around the state - primarily Pinot Noir, Pinot Gris, and Chardonnay, plus a cross-section of other varieties. This diversity of fruit helps shape a diverse work experience. You'll concentrate on analysis of grape maturity samples, juice, and wine while working with our experienced lab team.
What You Bring to the Role
We value interns who share in our company culture of working hard, working smart, and learning together. We expect people to work well within a team environment and work with individuals in a respectful manner that is consistent with the company's values. Previous harvest or cellar experience isn't required, but curiosity, flexibility and a strong work ethic are all essential.
What We Require
We're looking for interns who can work the full length of the harvest. We typically start in late August and work through early November, although dates will vary depending on the growing season. We seek interns who can accept a flexible schedule, across a variety of shifts, and are able to work up to six days a week and 12 hours a day at the peak of harvest. The job is physically demanding, requiring work at heights and in close spaces, in all kinds of weather, and for long shifts. We are primarily looking for US-based interns; we have a limited number of housing spots for international interns.
What You'll Get From Your Harvest Experience
The experience! We provide a meal a day at the peak of harvest, wine tasting opportunities, shared events, camaraderie, and sharing in a great company culture. Past interns have stated that a harvest at A to Z Wineworks is rewarding and a career builder.
Interns with the curiosity and desire to learn will enjoy working with a team that has earned the most years of collective winemaking experience in Oregon, as well as experience that stretches from Burgundy to New Zealand. Our winemakers approach winemaking from different perspectives and they enjoy sharing what they know. This is an opportunity to learn more about winemaking on different production scales and with different stylistic goals.
Interested? Reach out to us at jobs@atozwineworks.com to get the conversation started!
Please note: we are currently seeking U.S. based interns due to housing limitations.
A to Z values collaboration, cooperation and can-do attitudes. A to Z Wineworks is an equal opportunity employer and works toward racial equity and inclusion. All applicants will be considered for employment without attention to race, color, religion, sex, sexual orientation, gender identity, national origin, veteran or disability status.
Contact Details:
Company Name:
A to Z Wineworks
Company Website:
http://https://www.atozwineworks.com/St
Contact Person:
Abby Coffman
E-mail:
jobs@atozwineworks.com
Phone:
Respond Online: