Wine Industry Classifieds
New companies to directory
Vines of Sonoma Wine Tours
Inovaweld
Sign of the Vines
Vinolive Wineschool
Harvestaff
Caymus Special Selection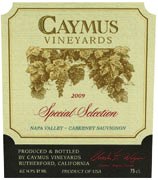 Vintage: 2009
Varietal: Cabernet Sauvignon
Country: USA
Appellation: Napa Valley
Produced By: Caymus Vineyards
Cases Produced: 0 cs.
Alcohol Content: 0.99 %v/v
Rating:





Description:
Caymus Vineyards produces two Cabernets Sauvignons – a "Napa Valley" and the venerable "Special Selection." Both Cabernet bottlings have aromas and flavors which can only be achieved through "hang time" – a technique which chances the loss of crop if early winter sets in. Leaving the fruit to "hang" on the vine unusually long develops suppleness, increases color, and matures the tannins of the grapes. The wines are abundant in textural tannins yet soft as velvet. Crop thinning, allowing measured sunlight to reach the vine's fruit zone, and waiting for increased ripeness are all part of our viticultural practices. Caymus Cabernets offer a wide array of aromas and flavors including cocoa, cassis and vanilla. Caymus Special Selection is the flagship wine of the Wagner family and is comprised of the very best barrels of the vintage. This wine is not produced in difficult years. Caymus Napa Valley is more representative of a standard Cabernet of Napa Valley, as it is a bit less precocious than the Special Selection, but still delivers big. Caymus prides itself on producing wines that are as approachable in youth as well at maturity. Both the "Napa Valley" and "Special Selection" Cabernets are produced under the winemaking hand of Chuck Wagner."

0 Review(s):
No reviews posted yet!
Post your review now!
Rating a wine is not for experts alone. This skill can be developed by anyone with enough practice and exposure and it starts with understanding the elements in winemaking, tasting and rating. There are basically 4 areas where wines are rated. These are appearance, aroma, taste and after taste.