New companies to directory
Gold Coast Winery
The Traveling Vineyard
Vinum Dominatios
Bodegas RE
Quibble Hill Winery LLC.
US: Connecticut's Wine Trail Opens New Season
May 6, 2012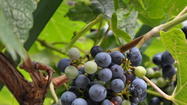 (Courant) - As soon as the little blue books arrive at Connecticut's farm wineries in early May every year, it's on. Wine lovers pack into tasting rooms from Brookfield to Woodstock, swirling estate Chardonnay and rosé in etched souvenir glasses and dreaming of an exotic trip to the Mediterranean. The Connecticut Farm Wine Development Council's 2012 Passport Program kicked off last weekend, beginning the ninth year of the promotion that encourages aficionados and day trippers to traverse the state, experiencing the state's agriculture. Between now and mid-November, avid winery visitors will vie to collect as many "stamps" in their passports as possible, for a chance to win several prizes.
Comments:
Leave a comment
Wine Industry Classifieds