LEOJAMI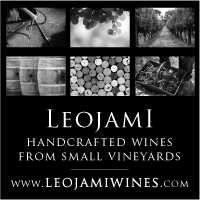 Vintage: 2008
Varietal: Viognier
Country: USA
Appellation: Arroyo Seco, Monterey County
Produced By: Leojami Wines
Cases Produced: 50 cs.
Alcohol Content: 13 %v/v
Rating:





Description:
Viognier (vee-oh-nyay) is an aromatic white wine grape that produces succulent and memorable white wines. Viognier is a very food-friendly wine. From appetizers to entrees, this single-vineyard Viognier is a versatile choice for any occassion. Our Viognier is dry, fruity, and full-bodied. The grapes are hand-picked and whole-cluster pressed. The juice is fermented in stainless steel and neutral French oak. The wine undergoes battonage (lees stirring) for six months. The wine is racked and filtered and bottled. Each vintage is released in very small quantities.
Wine Notes:
2008 Viognier Cedar Lane Vineyard Arroyo Seco, Monterey County The Vineyard Cedar Lane Vineyard is a fully sustainable vineyard positioned on a sandy, rocky bench above the Arroyo Seco River in Monterey County. The grapes for this wine are grown on single and double cordon. Special attention is given to canopy management and the slow development of elevated aromatics which are the hallmark of incredible Viognier. The Vintage The weather conspired to give us near perfect growing conditions in 2008. A cool, dry spring and warm summer aided early flowering and fruit-set. A warm autumn rounded out the ripening and the grapes were hand-harvested in September. Vinification The hand-harvested grapes were delivered to the winery in small containers and whole-cluster pressed. The juice was collected and fermented at cool temperatures in neutral French oak and stainless steel. Cultivated yeasts were used to create bright fruit flavors and a rounded palate without the use of malolactic fermentation. The wine was aged sur lie for eight months, at which point it was racked, fined, filtered and bottled. Our Closure Leojami Wines believes in using environmentally friendly products that also enhance our wines. Because of this, we have chosen Diam™ corks for all Leojami wines. Diam™ is a natural cork product that guarantees against cork taint (TCA), allows white and red wines to age gracefully, and is wholly recyclable and biodegradable. Technical Notes: Brix at harvest – 25.4 Aging – Sur lie, eight months in neutral French oak and stainless steel pH – 3.42 ta – 5.6 alc. by vol. – 13.8% residual sugar – 0.4%
Tasting Notes:
Tasting Notes This wine is bright and clear, with a pale lemon yellow core. The aromas are clean and elevated. Hints of papaya, lemon and orange flower rise from the glass. The palate is dry and crisp, full bodied and flavorful. Notes of citrus and cream give way to a rich and complex mouthfeel with a long, soft finish. This wine pairs well with seafood, cream sauces, and salads.
Wine Awards:
A Tasty Portmanteau, The Carmel Pine Cone - [The 2008 Leojami Viognier] is beautifully aromatic, fruitforward and floral in the nose, and those characteristics carry over to be bright and full in the mouth ... 50 cases [made], using neutral oak barrels and stainless steel tanks, and fermenting the wine on the lees, which gives it nice body along with its crisp, green-apple fruit. The ABCs of Wine, The Monterey Herald - [The 2008 Leojami Viognier from Cedar Lane Vineyard] a classy, lovely, floral Viognier aroma and fluid palate that prompted me to pour a smidge in a bottle to take to the dinner table ... a delightfully rich and balanced combo with a veggie soup comprised of leeks, fennel, tomato and potato — and shined with the post-meal See's milk and dark chocolate.
Producer Info:
About Us Leojami Wines is a family owned micro-winery. Focusing on food-friendly wines that are completely hand-crafted, Leojami Wines sources all of our fruit from organic and sustainable vineyards in Monterey County, California. Our winemaking and packaging practices are directed at creating truly unique wines that enhance life, not effect it. We invite you to join us !
Producer URL:
www.LeojamiWines.com

2 Review(s):
das
, Nov 2, 2012
dasda
Jessica B
, Apr 3, 2010
My friends and I went to Monterey for a girls weekend and ended up on the beach with a bottle of leojami viognier. It was sunny and warm and perfect. I would buy this wine again.
Rating a wine is not for experts alone. This skill can be developed by anyone with enough practice and exposure and it starts with understanding the elements in winemaking, tasting and rating. There are basically 4 areas where wines are rated. These are appearance, aroma, taste and after taste.
Advertisement

Wine Industry Classifieds