New companies to directory
Kukeri Wines
Garland Realty & Development,LLC
Mixology Masters
Fiore winery & distillery
Lutzville Vineyards
Viognier is a white wine grape with unique aroma and flavor character. The fruit usually has very deep color, but is low in acidity. It is the only permitted grape for the for the Northern Rhône appellations Condrieu and Château-Grillet.
More information on Viognier
LEOJAMI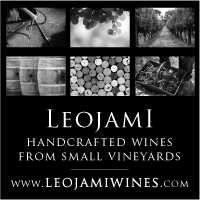 Vintage: 2008
Varietal: Viognier
Country: USA
Appellation: Arroyo Seco, Monterey County
Produced By: Leojami Wines
Cases Produced: 50 cs.
Alcohol Content: 13 %v/v
Description:
Viognier (vee-oh-nyay) is an aromatic white wine grape that produces succulent and memorable white wines. Viognier is a very food-friendly wine. From appetizers to entrees, this single-vineyard Viognier is a versatile choice for any occassion. Our Viognier is dry, fruity, and full-bodied. The grapes are hand-picked and whole-cluster pressed. The juice is fermented in stainless steel and neutral French oak. The wine undergoes battonage (lees stirring) for six months. The wine is racked and filtered and bottled. Each vintage is released in very small quantities.

Wine Industry Classifieds